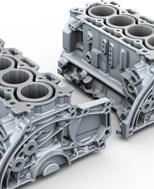 Left-hand: crankcase with coated cylinder bores, right-hand: crankcase with cast-in linings of grey-iron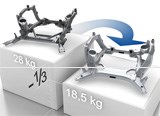 Compared to ordinary steel components lightweight aluminium chassis components from Honsel save one third of weight
Innovation by tradition
Just as the inventive spirit of our founder Fritz Honsel was the guarantor for the rapid rise of our company, we feel obliged to keep driving lightweight engineering forward by again and again coming up with innovative solutions.
Being innovative in itself is not enough to be good. One must keep questioning oneself again and again. We at Martinrea Honsel do just that. And across the entire bandwidth of our technology mix. Because it is precisely the combination of different methods that offers great opportunities for solutions fit for the future. Casting, rolling, machining, jointing – only those who master all these methods as well as the material are ideally equipped for current and future requirements.
In addition, we are constantly optimizing our construction solutions. Here we study conditions as close to operating reality as possible. With ever smarter simulations, calculation techniques and testing methods that we actively help to develop, we can map the relationships between temperatures and vibration loads, for example, ever better. So the dimensions of components can be improved and become still lighter. With the same or even higher strength and safety levels.
And there are a lot more developments, we are working on, such us functional surfaces to minimize friction, e.g. in engines and transmission systems or local engineering in order to guarantee strength precisely there where it is really needed. To master the current challenges. Quickly and with the highest quality. True to the tradition of Martinrea Honsel.