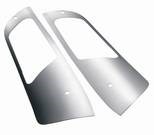 Switch plate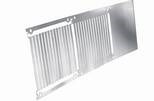 Blind centre console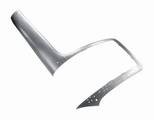 Support plate with pressed in grub screw
Something special - inside and outside!
Aluminium components do not only contribute to reduce the weight of a vehicle and therefore help to reduce fuel consumption as well as  emissions. They also look decorative and classy and give vehicles something special. Trim strips with glossy and individually embossed surfaces are eye-catcher and make the vehicles design attractive and distinctive. In the interior as well as in the exterior.
In cooperation with our customers we design individual structures, which are applied to the coils and sheets with special embossing rollers at our sheet rolling plant. These sheets are then punched into fitting dimensions. Our customers form the punched blanks into the right shape, so that they can  directly be attached and fit perfectly to the car of the end customer.
Visible as exterior or interior trim strips or invisible as carrier and support plates, caps and opening buttons, covers and faceplates.
The application of semi-finished products in and on the vehicle is multifaceted. Function and design combine in a visible and an invisible way. Inside and outside.