Longitudinal beam

Swivel bearing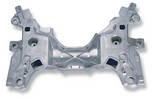 Engine cradle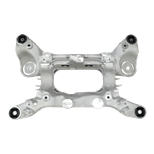 Subframe
Light engineering solutions in the suspension – more active and passive safety
Like the engine and transmission, the suspension works behind the scenes, covered by the body. But the suspension is decisive in defining a vehicle's character. Handling, stability in bends and in braking manoeuvres, hard and sporty or soft and comfortable on the road. The right design of the suspension represents active safety, which we support with light engineering solutions.
Because of their low weight, suspension components in light metal alloys contribute not only to reducing the total vehicle weight and thus to saving fuel. At the same time, they lower the unsprung masses that are partly responsible for the vibrations transmitted into the vehicle when driving and thus influence ride comfort and safety.
With our combination of casting and machining, we offer all the options for innovative components and system solutions in the suspension area in particular. More active and passive safety; and less fuel consumption. Our light engineering solutions offer real added value.