Over 100 years of casting experience – A competitive advantage for our customers
Martinrea Honsel delivers cast engine, transmission and suspension components for cars and trucks across the world. We support all well-known OEMs, engine and transmission manufacturers in developing components and in the entire process of designing light weight engineering solutions.
The staffing of our development teams is interdisciplinary. Engine and transmission developers, materials specialists and foundry experts work hand in hand here. We do not start only when we get a component drawing from the customer. With our function and system know-how, we contribute to the development with advice from the outset. Our understanding of the challenges of components in modern engines, transmissions and suspension systems allows us to look for targeted solutions. The outcome is especially light castings that are highly resilient precisely at those points where the greatest loads occur in operation.
More than one hundred years of experience in casting light metals bring us and our customers to the goal especially quickly. Because that experience puts us in a position to apply the available engineering and simulation tools with certainty. Precise parameterization and only few iteration loops mean short prototype development times, less rework on dies and tools and a fast ramp-up into series production.
Because every component is different, we also design the casting process for every component individually. Automated processes with intelligent control loops and fully integrated process data management guarantee the highest possible quality, and that with every casting method used. The manufacturing depth is based on the customer needs. We manufacture from the casting and the subsequent heat treatment to machining parts down to the final dimension, and then testing, assembling and shipping them straight to the line.
We have over one hundred years of experience in casting and system know-how oriented around the present and future demands of modern vehicle development. That is our competitive advantage. And that of our customers.
Casting simulation
At Martinrea Honsel we use MAGMA SOFT® to simulate the pouring and solidification. Our advantage: With more than a hundred years of experience in casting we are able to set the many parameters quickly and reliably. We need only a few iteration loops in order to design components such that they achieve the mechanical strengths that will be demanded of them in operation later. A cluster computer with numerous processors in the background makes sure that the results of the calculations are quickly available.
Engineering tools
Our engineering tools match the development tools that are customary on the market and at our customers. CATIA, Pro/E,… Rapid and simple exchange of data in CAD and CAM development is self-evident at Martinrea Honsel.
Casting simulation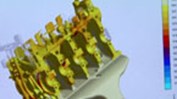 MAGMA Soft and our many years of experience ensure fast and precise simulation results.
Engineering Tools
We work with all CAD and CAM systems customary on the market.